Become an Exhibitor
Are you looking to reach active, traveling adults in the greater Spokane region who are motivated to enjoy the rest of the winter sports season while looking ahead to warmer months of biking, hiking, water sports and summer travel? Don't miss the opportunity to be a part of a fun, engaging, and interactive expo that nails your target audience.
Join us Saturday February 25, 2023 from 9 a.m.-5p.m and Sunday February 26 from 10 a.m.-4p.m.
Contact Derrick at derrick@outtheremonthly.com or 509-822-0123 for an exhibitor application. We also have a non-profit booth rate and smaller exhibitor space options for organizations putting on fundraising races and rides.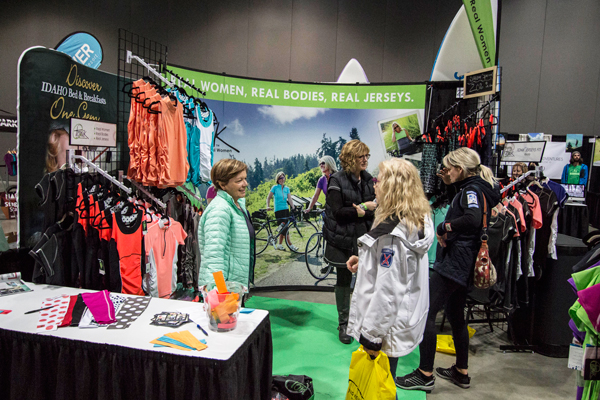 What it is
The Spokane Great Outdoors & Bike Expo is a two-day celebration of all the awesome outdoor recreation and travel opportunities and the amazing lifestyle we enjoy here in the Inland Pacific Northwest. In partnership with the Spokane Golf Show – the two shows will be connected, allowing ticket holders to freely move through both shows – for its fifth year, we expect 5,000 or more attendees.
Who Will Be There
Bike shops, destination tourism organizations; outdoor retailers; national and regional outdoor gear and lifestyle brands; ski resorts; bike parks; outdoor recreation clubs and organizations; tourist service providers; mountain resorts and retreats; adventure guides; fly fishing outfitters; fitness clubs and trainers; healthcare and nutrition providers; race directors and event organizers; and other local businesses will fill the Great Outdoors & Bike Expo exhibitor hall.
Why You Need a Booth—
It's Your Target Audience!
Are you looking to reach an active, affluent adult audience that's motivated to enjoy the rest of the winter sports season while looking ahead to warmer months of biking, water sports and the summer travel season? Don't miss the opportunity to be a part of a fun, engaging, and interactive expo that nails your target audience.
As Much Outdoor Fun as You Can Have Inside
Don't let the indoor setting fool you. The Spokane Great Outdoors & Bike Expo will inspire expo attendees to show up and stick around with fun, entertaining and engaging activities throughout the show. A bike demo area inside; product samples and interactive displays; and free clinics and demonstrations will be happening all weekend long. And, of course, attendees will also have access to the Golf Show and Beer Garden.
The Spokane Great Outdoors & Bike Expo turned out to be a great show for NE Oregon Wallowa's because of the interest in hiking & outdoor buffs. We wouldn't want to change a thing about the show. We held a captive audience of Spokane people to come to NE Oregon. The golf show blended well with recreation enthusiasts.
 Each Booth Includes:
Piped and draped 10 x 10 booth
6′ Table & 2 chairs (20×10 booth includes one table and two chairs unless otherwise requested)
Basic Wireless
The facility is not carpeted.  You may add carpet & pad with your booth contract.  If you did not order carpet with your booth contract you must contact the show office and order 1 week prior to the show to receive the pre-show price.  Or you may contact the Decorator, LCD, 1 week prior.
To order Carpet, additional tables or furnishings please contact the decorator directly:
The decorator for the Spokane Great Outdoor & Bike Expo  is LCD Exposition Services. The phone number for the decorator is: 509-325-9656. All orders for special booth requests must go through LCD Exposition Services.
CLICK HERE to order online! Use code

3637

when ordering online.
The packet with pricing and important dates will be available here soon.
Please contact Shallan for your booth space. You will need to email or fax the form to them.
up to 4 wristbands. The form for wrist bands and will call entry for exhibitors will be emailed to you in early February.
To order electricity for your booth, click here and follow the instructions for creating an account. When asked for your booth number, enter 000. Email derrick@outtherremonthly.com with any questions.
Move In/Set Up: Friday Feb. 24 from Noon –  6PM
Hours: Saturday Feb. 25 from 9-5 and Sunday Feb. 26 10-4
Move Out: At 4PM on Sunday when the show closes
Directions to the Spokane Convention Center Exhibit Hall Loading Areas
CLICK HERE for Exhibitor Driving Directions & Loading Map for the Spokane Convention Center EAST Exhibit Hall.
The show is located in the Convention Center Exhibit Hall – use the EAST Exhibit Hall directions (please refer to above map link).
There are multiple loading docks at the Exhibit Hall if needed for loading and unloading trucks.
Parking
The parking garage at the event in the covered garage is $10/day if spots are available.
Food Sampling & Serving Alcohol
There is no fee for sampling as long as you follow the guidelines below; however, you need to fill out a sampling form. Email derrick@outtheremonthly.com for a copy of that form.
Product Sampling Guidelines: To maintain the cleanliness of the facility, the Spokane Convention Center regulates the size and type of Food and Beverage dispensed at Tradeshows.
Sampling is limited to the following:
Product sampled must pertain to the exhibitor; beverage portion cannot exceed four (4) ounces; food portions cannot exceed two (2) ounces; ready-to-eat food may not be sold at the Spokane Convention Center; and all sampling must be confined to booth only, no walking the exhibit floor
To serve alcohol at your booth you must fill out the same form and arrange for CenterPlate to pour the alcohol as it will be under the CP alcohol license in the building. There is an hourly fee of $25 for CenterPlate.
Entry Handouts
If you would like to be included in our show entry handouts that we give to attendees as they come through the door contact the show office.
Doing Business in WA
You must register as a temporary business in the state of Washington if you are selling retail at the show.  CLICK HERE to do that (it's even free!)  Ten (10) days after the event they will send you a form to fill out and remit the taxes to the state of Washington.
Exhibitor BONUS Emails:
For an additional fee we can send out a stand-alone email for your company or an email with your offer along with 2 other offers. Email Derrick at OutThereMonthly.com for details.
Non-Profit Exhibitors:
Please check with the show promoters for rates and restrictions. You may raise funds via raffle tickets, enter-to-wins or silent auctions.  Selling a product is not allowed at the non-profit booth rate.  There are a limited number of booths available at the show in this category.
Discount Hotels: Our exhibitors can use the same lodging offers available for Spokane Golf Show exhibitors. Click here and scroll near the bottom on the left for details.